Tiber Limo
The best Rome airport transfers
Why Tiber Limousine Service offers the best Rome airport transfers
Tourists arriving at Rome airport have many choices to reach Rome but knowing how things are in Italy sometimes they are worried about using taxis or train. Tiber Limousine Service offers the best private limo service for Rome airport transfers to and from Rome and for Rome airport transfers to and from Civitavecchia port. We also offer private Rome airport transfer to and from everyhere in Italy: Rome airport to and from Rome surroundings, Florence, Naples, Milan, Venice, just to name a few. Why is it the best? Here are the main characteristics of our private transfer service:
No hidden charges for our private Rome airport transfer service
It seems not very important. You might say that this is a characteristic of every private limo service in Rome but be careful. It's not always true. Our prices are inclusive of all taxes, parking, fuel and other transfer fees, free baby seats and wheel chairs if needed, luggages, vehicle and passengers insurance. What about gratuities? Here in Rome it is not mandatory to give a tip to the driver so you don't have to pay any extra. Obviously if you really appreciated the service and think that the driver deserves a little tip you are free to give him some money but don't feel obliged to do this way.
We offer our private limo service in Rome every day of the week, 24 hours a day
You are certain that we can pick you up at Rome airport or take you there every day and at any time. You can contact Tiber Limousine Service in Rome whenever you wish on our mobile telephone number: +39 366 154 4984
For every problem or emergency or if you just need some information please call us immediately.
Only private limo services, only private Rome airport transfer
It seems obvious. We repeated many times that we offer just private Rome airport transfer but it's no so obvious. Sometimes it happens that you think you bought a private service but then you realize that for some reason they are not offering you the service you bought. With our company this will never happen.
Fully licensed English speaking drivers
All Tiber Limousine Service drivers speak fluent English and are licensed and certified qualified by the municipality of Rome. They are not really just drivers because they know very well Rome and its history and can give you a lot of information during the transfer from Rome airport to Rome and vice versa.
Fully licensed and insured vehicles
Limo service is different from taxi service. In Italy limo service is known as NCC or Noleggio Con Conducente, that is Rent a Car with Driver. All our vehicles, Mercedes sedan E-class and Mercedes Viano Saloon Deluxe, are immediately recognizable because they are countersigned with "NCC" on the front glass and the license number is attached in the back next to the licence plate. Another important difference with taxi service is that by italian law a limo service needs a reservation. We cannot approach clients in Rome or at Rome airport and offer our limo services. So if someone approaches you at Rome airport and offers a transfer service it is clear that he is not from a licensed limo company or he is breaking the law.
Flight tracking to avoid problems with delayed flights Very often customers are worried that there will be problems if their flight arrives late. They think the driver will not meet them or there will be an extra charge. Absolutely not with our private Rome airport transfer service. We monitor all flights and our English speaking driver will pick you up even if your flight arrives at Rome airport hours later than flight scheduled arrival time. And the price will not change. You don't have to pay an extra charge if your flight is delayed. Sometimes it happens that some customer miss their flight and arrive with another flight. Don't worry. Just contact us and we will reschedule your Rome airport transfer at no extra charge.
Rome Airport Information
Fiumicino (FCO) Rome airport is about 35 kilometers from Rome. Its official name is Leonardo da Vinci International Airport. The most expensive one connects Fiumicino airport and Termini Station and costs 14,00 euro (15,00 euro if you buy the ticket at the desk in front of the train). The name of the train is Leonardo Express and it takes about 30 minutes to get to Rome, without intermediate stops. First departure of Leonardo Express from Rome Termini station is at 5.52 and the first departure from Fiumicino Rome Airport at 6.36. Last departure from Fiumicino Rome airport is at 23.36 and last departure from Roma Termini station is at 22.52.
The slower but cheaper alternative is FR1 local train that connects Fiumicino Rome Airport to Trastevere station, Ostiense station, Tuscolana station and Tiburtina station but doesn't stop at Termini station. However you can take the Rome metro if you get off at Ostiense, Tuscolana or Tiburtina. The ticket costs 8.00 euros
The cost of Leonardo Express is high expecially if you are not alone. Consider that when you arrive in Rome, unless your hotel is near Termini station, you will have to take a bus or a taxi to get to your hotel or apartment, so the total cost will increase, not to mention standing with luggage on crowded buses during rush hours, for example. So in the end it may be much better a Rome airport private transfer with a limo service. For two or more people the final cost of a Rome airport transfer with a limo service will be almost the same and there will be no hassle. Saving money sometimes it's not the best choice!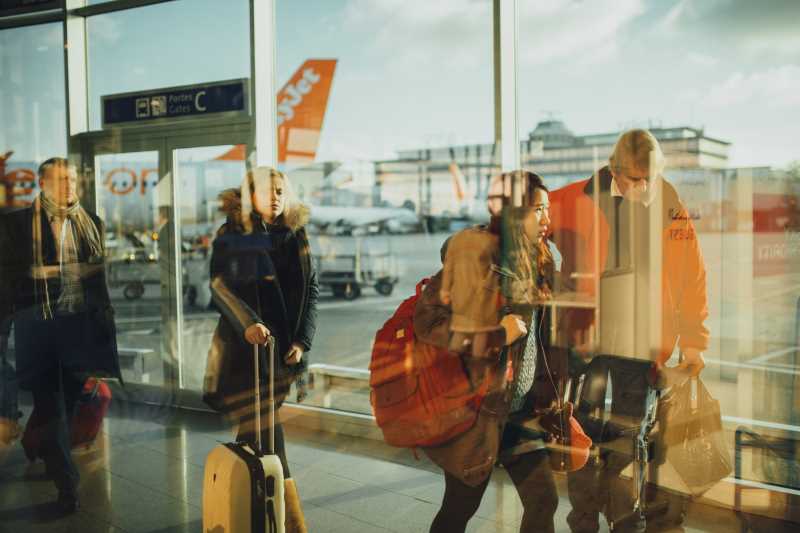 Fiumicino (FCO) Rome Airport Terminals
Fiumicino Rome Airport has four terminals
Terminal 1
Alitalia, Air France, and KLM arrivals and departures within the Schengen zone, that is great part of continental Europe
Terminal 2
EasyJet departures
Terminal 3
This is the most important terminal at FCO Fiumicino Airport. Here there are all arrivals from North America.
Terminal 5
There are only departures for USA and Israel.
Fiumicino (FCO) Rome Airport: how to move between terminals.
In Fiumicino Rome airport it is very easy to reach every terminal.
Terminal 1, Terminal 2, Terminal 3
There is a free shuttle that allows passengers to move between Rome Fiumicino Terminal 1, Terminal 2 and Terminal 3 but there is little distance between terminals and it is possible to move from a terminal to another in 5 minutes on foot. This free courtesy shuttle runs every 20 minutes and is the best way to move between the Rome Fiumicino airport terminals.
Terminal 3
Between Rome Fiumicino Terminal 3 and its satellite there is an automatic train.
Terminal 3, Terminal 5
There is also a shuttle between Rome Fiumicino Terminal 3 and Terminal 5.
Here you can find Travel information and Maps on Fiumicino Airport
Fiumicino (FCO) Rome Airport Hotels
Hilton Rome Airport hotel
Via Arturo Ferrarin 2 Fiumicino, Rome, Italy
Tel: 39-06-65258
Hilton Rome Airport hotel
Hilton Rome Airport hotel is the nearest to Fiumicino Rome airport. It is linked to the airport by a covered walkway, so we can say that this hotel is literally inside the airport. The covered walkway is situated on the upper level and runs between Fiumicino Rome airport Terminal 2 and Hilton Rome Airport hotel. It is very easy to reach the walkway from Fiumicino Rome airport Terminal 1, Terminal 2 and Terminal 3 because a free shuttle links these terminals. In less than 10 minutes it is possible to reach Hilton Rome Airport hotel.
Hilton Garden Inn Rome Airport
Via Vittorio Bragadin 2, Fiumicino, Rome, Italy
Tel: 39-06-6525 9000
Hilton Garden Inn Rome Airport
Tourists can reach this hotel with the shuttle bus in about 5 minutes. The shuttle bus stop is just outside Fiumicino Rome airport Terminal 3 and the shuttle bus is scheduled every 30 minutes from Hilton Garden Hinn Rome Airport.
Holiday Inn Rome Parco Dei Medici
Viale Castello della Magliana 65, Rome, Italy
Tel: 800 877 452
Holiday Inn Rome Parco Dei Medici
Holiday Inn Rome Parco dei Medici is not near Fiumicino Rome airport but about 12 kms from it. To reach the Holiday Inn clients can use the free shuttle provided by the hotel. The hotel is located in EUR, a business district of Rome, so clients have the opportunity to reach easily both Fiumicino airport and Rome city center.
Hotel Mach 2 Rome Airport Fiumicino
Via Portuense 2465, Rome, Italy
Tel: 39-041-8620400
Hotel Mach 2 is about 2 kms from Rome Fiumicino airport, so it is perfect for every tourist who need to stay near the airport Leonardo da Vinci. Starting from Hotel Mach 2 it is possible to reach easily Parco Leonardo, where the new fair of Rome is located with many shops, and obviously the city of Rome.
Fiumicino (FCO) Rome Airport: Airlines and Terminals
| Airline | Code | Terminal |
| --- | --- | --- |
| Aegean Airlines | A3 | T3 |
| Aer Lingus | EI | T3 |
| Aeroflot | SU | T3 |
| Aerolineas Argentinas | AR | T3 |
| Aeromexico | AM | T1 |
| Afriqiyah Airways | 8U | T3 |
| Air Algerie | AH | T3 |
| Air Alps Aviation | A6 | T3 |
| Air Baltic | BT | T3 |
| Air Berlin | AB | T3 |
| Air Canada | AC | T3 |
| Air China | CA | T3 |
| Air Europa | UX | T3 |
| Air France | AF | T1 |
| Air Italy | I9 | T1, T3 |
| Air Malta | KM | T3 |
| Air Moldova | 9U | T3 |
| Air One | AP | T1 |
| Air Seychelles | HM | T3 |
| Air Transat | TS | T3 |
| Alitalia | AZ | T1, T3 |
| American Airlines | AA | T5 |
| Armavia | U8 | T3 |
| Austrian Airlines | OS | T3 |
| Belavia | B2 | T3 |
| Belle Air | LZ | T3 |
| Biman Bangladesh Airlines | BG | T3 |
| Blue Air | 0B | T2 |
| Blue Panorama Airlines | BV | T3 |
| Blue1 | KF | T3 |
| British Airways | BA | T3 |
| Brussels Airlines | SN | T3 |
| Bulgaria Air | FB | T3 |
| Carpatair | V3 | T3 |
| Cathay Pacific | CX | T3 |
| China Airlines | CI | T3 |
| Cimber Sterling | QI | T3 |
| Continental Airlines | CO | T5 |
| Croatia Airlines | OU | T3 |
| CSA Czech Airlines | OK | T3 |
| Cubana | CU | T3 |
| Cyprus Airways | CY | T3 |
| Darwin Airline | 0D | T3 |
| Delta Air Lines | DL | T5 |
| Denim Airways | 3D | T3 |
| EasyJet | U2 | T2 |
| EasyJet Switzerland | DS | T2 |
| EgyptAir | MS | T3 |
| El Al | LY | T5 |
| Emirates | EK | T3 |
| Ethiopian Airlines | ET | T3 |
| Finnair | AY | T3 |
| Flybaboo | F7 | T1, T3 |
| Germanwings | 4U | T3 |
| Hello | HW | T3 |
| Iberia | IB | T3 |
| Iran Air | IR | T3 |
| Israir | 6H | T5 |
| ItAli Airlines | FS | T3 |
| JAT Airways | JU | T3 |
| Jet2.com | LS | T3 |
| KLM | KL | T1 |
| Korean Air | KE | T3 |
| Kuwait Airways | KU | T3 |
| Livingston | LM | T3 |
| LOT Polish Airlines | LO | T3 |
| Lufthansa | LH | T3 |
| Luxair | LG | T3 |
| Malaysia Airlines | MH | T1 |
| Malev Hungarian Airlines | MA | T3 |
| Meridiana Fly | IG | T2, T3 |
| Middle East Airlines | ME | T3 |
| Montenegro Airlines | YM | T3 |
| Neos | NO | T3 |
| Niki | HG | T3 |
| Norwegian | DY | T3 |
| Olympic Air | OA | T3 |
| Qantas | QF | T3 |
| Qatar Airways | QR | T3 |
| Royal Air Maroc | AT | T3 |
| Royal Jordanian | RJ | T3 |
| SAS | SK | T3 |
| Saudi Arabian Airlines | SV | T3 |
| Singapore Airlines | SQ | T3 |
| Swiss International Air Lines | LX | T3 |
| Syrian Air | RB | T3 |
| TACV | VR | T3 |
| TAP Portugal | TP | T3 |
| Tarom | RO | T3 |
| Thai Airways | TG | T3 |
| Transavia | HV | T3 |
| Transavia Denmark | PH | T3 |
| Transavia France | TO | T3 |
| Travel Service Airlines | QS | T3 |
| Tunisair | TU | T3 |
| Turkish Airlines | TK | T3 |
| Ukraine International Airlines | PS | T3 |
| United Airlines | UA | T5 |
| US Airways | US | T5 |
| Uzbekistan Airways | HY | T3 |
| Vueling | VY | T3 |
| Wind Jet | IV | T3 |
| Wizz Air | W6 | T3 |
| Yemenia – Yemen Airways | IY | T3 |